The creature, two-headed and fearsome, paws and snorts, looking nearly ready to charge you. Light reflects oddly off of it, and the tips of spines glint threateningly. You start to back away slowly.

The creature stops pawing, evidently content with the fact that you're leaving. Abrubtly, he turns and vanishes back into one of the caves.

Breathing a sigh of relief, you turn around again, and are startled by another creature. However, this one is much less threatening, and only looks at you for a moment before returning to it's own cave.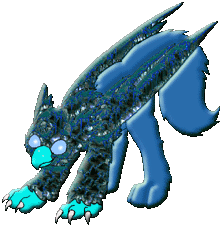 Continue

Back





Name: Sangwa
Species: Equine Whorling

Name: Vanwa
Species: Gryphon Whorling
From: The EverRealm