Happy Birthday
Matt!

---

Happy Sweet 16 (LoL) to Matt!!!!!!!!! Cuz he 'tis an awesome brother!! ;o)

---

Of course... what the heck is a birthday without presents?? Huh??


(ok, so you already had this one... but oh well!!)


(This one be from the Hatchery... strangly enuf , hehe!)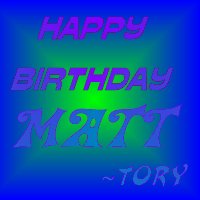 ( Woo hoo... ya never seen that one! lol)



(lil' gifty...)



(candy!!!!!!! heeheehee)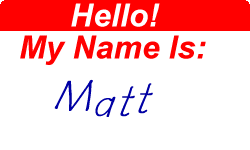 (I just couldn't resist making this... LoL!)


(What's a birthday without a party?)

---

And now... a Spiritbook! Yay!
And I expect you, Matt, to read
EVERY SINGLE ENTRY!
LoL! ;o)


Sign My Spiritbook
View My Spiritbook
---

And a flower... and a V-Day balloon... since V-Day also be your birthday...


Send a Spirit Flower!
Send a Valentines Day Balloon
---

Well.... I hope you liked your lil' page.... :o) Have an awesome B-Day!!!
~Tory
and
All who contributed to this page