She flicks her fins and looks at you, as you look at her. You both look at each other for a few minutes. Then, abruptly, she swims away into the depths. As she does so, a small flicker catches your eye...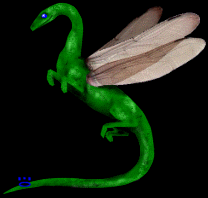 It appears to be a tiny winged dragon! It flits off.

A rock at the edge of the pool has something carved into it... there is also a small floating banner some distance away.