"I was bonded to Supernova quite some time ago. It seems, however, that he may just be stuck at his current age for the rest of his life. The world he is from, though still seeming to be in existance, must have faded to image only. And so, I will continue to care for Supernova as he is... a cute lil' baby dragon."



Another dragon sits against the far wall.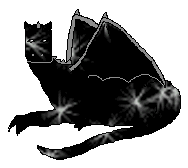 "This is Obsidian," the girl says. "Though he may look small, he's full grown, and has been an adult for quite some time. His original home has completely disappeared, unfortunately. I do, however, still have a relic from his childhood..."




"Last but not least, this is Tristar. She is the most recent out of these three."




After admiring the three for a bit, Victoria points to metal cards of sorts hanging on the wall.